About Arpa International Film Festival
For the last 20 years Arpa Foundation for Film, Music & Art (AFFMA) continues to cultivate cultural understanding and global empathy in the heart of Hollywood, promoting independent filmmakers through its main event – Arpa International Film Festival held annually at the Egyptian Theatre. Through the generous support of our donors and sponsors, our yearly film festival event inspires people of all backgrounds and creates opportunities for creative expression. Arpa Film Festival's dedicated production team is committed to make a difference in fueling the global arena of independent cinema.
Festival Mission
Every great journey starts with a single step, just as every great work of art begins with a vision. Art is the enlightenment of all civilizations; consequently, in our modern world, we have no greater purpose than to make sure these splendid voices are heard, and these marvelous images are seen. Arpa International Film Festival takes great pride in working toward recognizing the diverse tapestry of international talent and presenting it to an appreciative audience. We place a strong emphasis on filmmakers' unique artistic vision, cultural diversity and social understanding. We make sure to provide the public with unique stories of the human spirit with themes of our rapidly changing universe. Whether it be through features, documentaries, shorts, or music videos the possibilities are endless in discovering the many avenues these gifted filmmakers take on the playing field of independent cinema. We encourage the public to celebrate their work, their insight and inner creativity.
Festival History
In 1995 Sylvia Minassian motivated by her people's history, meaning of community and its purpose, established Arpa International Film Festival. She created an atmosphere where international filmmakers bring their unique body of work unfolding on to the screen. This year marks the 19th annual Arpa International Film Festival. Over the course of years our festival continues to embrace the diversity of vision of its filmmakers, all of it brought upon by our genuine appreciation of their work. Today the festival is still held in the prestigious Egyptian Theater and continues to bring quality films from around the world. The inaugural Arpa International Film Festival was held at the Alfred Hitchcock theatre in Universal studios. Special guests included producers Hank Moonjean ("Dangerous Liaisons", "Beauty and the Beast") and Howard Kazanjian ("Raiders of the Lost Ark", " Star Wars: Return of the Jedi"). In following four years, the festival moved to Raleigh Studios, one of the oldest studios in Hollywood, dating back to 1915. Equally historic, the Roosevelt Hotel was the location for the festival's Award Ceremonies. From 2003-2006 the festival moved to the new Arclight Cinemas in Hollywood due to the increased attendance. The Awards Gala took place at the Universal Sheraton Hotel to accommodate our patrons. In 2006, the Festival's current home became the newly restored, and internationally known, Egyptian Theatre in Hollywood.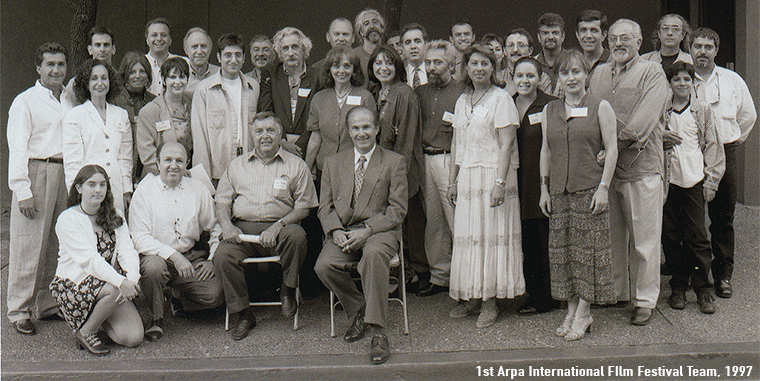 Through the years, many industry greats have taken part in Arpa International Film Festival as honorees, presenters, emcees, special award recipients, and attendees. Celebrities such as Atom Egoyan, Dean Caine, Alanis Morrissette, Leo Chaloukian, Vivica A. Fox, Roselyn Sanchez, Howard Kazanjian, Mardik Martin, Dana Daurey, Dean Haglund, Josie Davis, Alek Keshishian, Emilio Rivera, Hank Moonjean, Bob Papazian, Jim Hirsch, Cheech Marin, Tony Shaloub, Shorheh Aghdashloo, Arthur Sarkissian, Marilu Henner, Ken Davitian, Leo Quinones, Ara Keshishian, Marla Maples, Haik Gazarian, James Duke Mason, Francis Fisher, Sid Haig, David Alpay, Raya Meddine, Heather McComb, Anoush NeVart, Mike Connors , Caroline Aaron, and many others. In the ever changing global media landscape, it is an honor to acknowledge the contributions of these many names in show business, but it is far more important to foster the growth of the new age independent filmmakers.