About Arpa International Film Festival
Arpa Foundation for Film, Music & Art (AFFMA) is a nonprofit organization founded in 1995 with the purpose of providing a platform for filmmakers, musicians and artists, whose works explore subjects of social and cultural importance. AFMMA's biggest endeavor was launching its signature Arpa International Film Festival in 1997, which quickly came to be recognized as one of the leading indie film festivals in Southern California.
Festival Mission
Arpa International Film Festival is dedicated to cultivating cultural understanding and global empathy by creating a dynamic forum for international cinema. Over the past 21 years, the festival has bridged cultural divides by fostering dialogue among people of diverse backgrounds. By showcasing local and international films that explore critical issues such as war, genocide, diaspora, dual identities, exile and multiculturalism, Arpa International Film Festival has solidified its role in safeguarding films that continue to make a social impact.
Festival History
Arpa International Film Festival (AIFF) was launched in 1997 by Sylvia Minassian with the support and encouragement of her husband. Arpa International Film Festival celebrated it's 20th anniversary in November 2017, and has come to be recognized as one of the oldest independent film festival for international cinema in Los Angeles. Since its inception, the festival has continuously embraced the diversity among local and international filmmakers. Today the festival is still held at the historic Egyptian Theatre, showcasing a dynamic set of films from around the world.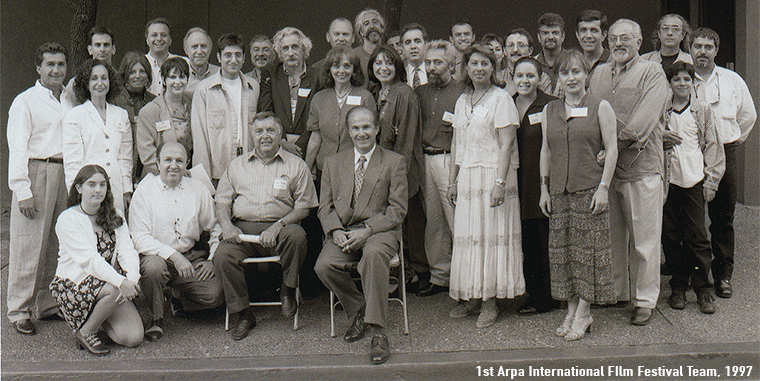 The inaugural Arpa International Film Festival was held at the Alfred Hitchcock Theatre located at Universal Studios. Special guests included producers Hank Moonjean (Dangerous Liaisons, Beauty and the Beast) and Howard Kazanjian (Raiders of the Lost Ark, Star Wars: Return of the Jedi). The festival found a new home for several years at Raleigh Studios, one of the oldest studios in Hollywood, dating back to 1915. Equally historic, the Roosevelt Hotel was the location for the festival's Award Ceremonies. Arpa International Film Festival's rapid growth and popularity in 2003-2006 brought the festival to the Arclight Cinemas in Hollywood, with the Awards Gala taking place at the Universal Sheraton Hotel.
Since 2006, the festival has been held at the world renowned Egyptian Theatre in Hollywood. Our big anniversary, the 20th Annual Awards Banquet took place at the Loews Hollywood Hotel on November 5th, 2017. Honorees included music icon Chris Cornell (in memoriam), Oscar-winning director Terry George (The Promise, The Shore, Hotel Rwanda, In the Name of the Father), actor Carl Weathers (Rocky, Predator, Happy Gilmore) and Oscar-winning screenwriter Alexander Dinelaris (Birdman), with special performances by theremin virtuoso Armen Ra and vocalist Mister X.