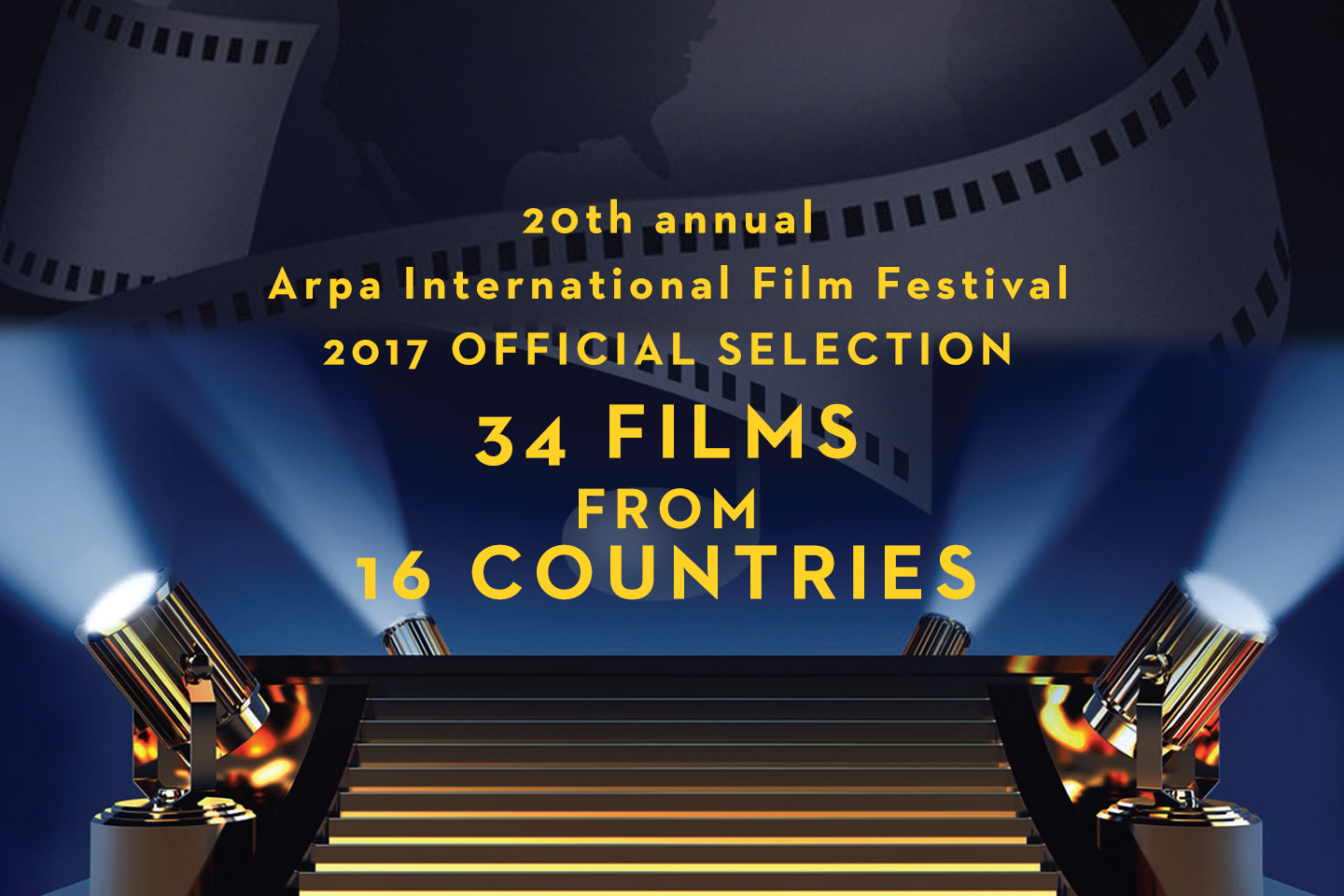 20th Annual Arpa International Film Festival to Deliver Dynamic Set of Films from Around the World
In the spirit of our milestone anniversary, Arpa International Film Festival will once again showcase international cinematic gems in the heart of Hollywood at the historic Egyptian Theatre from November 3 – 5, 2017. This year's highlights include a diverse range of films that explore themes such as genocide, war, and LGBTQ issues. The festival will also present thought-provoking shorts, as well a critically acclaimed thriller and a French masterpiece on the life of pop icon Dalida.
Opening Night on Friday, November 3 will kick off with a special reception and screening of DALIDA, a biopic intimately capturing the true story of acclaimed Egyptian-born music icon Dalida, who gained celebrity in the 50s, singing in French, Spanish, Arabic, Hebrew, German, Italian. Her dazzling 30-year career was marked by tragic events, including her very own suicide in 1987 which forever immortalized her iconic image as a diva and renowned singer.
Our first Saturday afternoon Centerpiece program will feature Nikolay and Sergey Sarkisov's KRASNY, a Russian-Georgian western set in the south of post-revolutionary Russia. The film tells the story of a noble woman, a red commissar and a Cossack whose paths intertwine in a most unexpected way.
On Saturday evening, our second Centerpiece program and reception will showcase Academy Award-nominated director Joe Berlinger's powerful documentary INTENT TO DESTROY: DEATH, DENIAL AND DEPICTION, partially shot on the set of Terry George's epic film The Promise (starring Oscar Isaac, Christian Bale, and Charlotte Le Bon). Berlinger's film takes an unwavering look at the Armenian Genocide. Historians, scholars, and high-profile filmmakers come together in this cinematic exploration of the tangled web of responsibility that has driven a century of denial by the Turkish government and its strategic allies.
Following INTENT TO DESTROY on Saturday night is our third Centerpiece program – Stephen C. Sepher's (The Heist) DEAD ON ARRIVAL starring Emmy-nominated Billy Flynn (Days of Our Lives). DEAD ON ARRIVAL, inspired by the 1950 classic noir thriller D.O.A., exposes audiences to a dark world of sex, corruption and murder with Billy Flynn's character struggling to save his life within less than 24 hours.
Earlier on Saturday, our festival goers will have the opportunity to see PINSKY, a comedy about a young woman who loses her girlfriend and her grandfather in the same day and moves back in with her authoritarian Russian grandmother who is determined to marry her grand-daughter off to a nice Jewish boy. The lead character, Sophia Pinsky, ultimately finds her way to a weekly open mic night, where on a whim she gets on stage and discovers there's actually an audience for her Queer-Russian-Jewish-American sense of humor. The film captures the struggle between Sophia and her grandmother in an effort to define loyalty and love.
Other noteworthy films being featured throughout the day on Saturday are THE LIBERATION OF SKOPJE and H.O.M.E..
Rade Serbedzija's latest film THE LIBERATION OF SKOPJE tells the story of cruelty of war, poverty and suffering during the occupation and liberation of what is modern-day Macedonia's capital city of Skopje during World War II. The horrors of war are portrayed through the eyes of an 11-year-old boy whose father is away fighting in the partisan army, while his mother develops a special relationship with a German officer.
H.O.M.E. is a film woven of two stories exploring urban alienation and meaningful encounters through the lens of a disconnected city in constant motion. One story revolves around a young man with Asperger Syndrome who seeks refuge in the underground labyrinth of NYC. The other follows a gambling Ecuadorian livery driver & a Chinese woman desperate to get home to her sick child.
Highlights from Sunday's lineup include three social impact films- feature film APRICOT GROVES, and documentaries HELENA'S LAW & THE HEART OF NUBA – all of which bring much needed awareness to LGBT issues, atrocities in the Nuba Mountains of Sudan and the essence of good and evil.
APRICOT GROVES is a beautiful LGBTQ-inflected film about family, faith, brotherhood, and love. The debut feature was written and directed by Tehran-based Pouria Heidary Oureh, who masterfully tells the story of a transmasculine young man by the name of Aram who travels to Armenia from the United States where he has lived all his life. Aram finds himself in Armenia to propose marriage to an Armenian girl he met in America. He and his brother hit the road between Armenia and Iran, with the film skillfully layering subtle hints among their words, looks, and deeds.
HELENA'S LAW is a Czech documentary focusing on a police officer, as well as other key players in a case. The resulting film is a mosaic that says less about the case or its background than it does about the people who exist on the edge of the law, and about their thoughts and motivations. Filmmaker Petra Nesvačilová finds herself acting in her movie, leading her to consider questions related to the essence of crime and of good and evil in general.
Kenneth A. Carlson's powerful THE HEART OF NUBA profiles the courageous and selfless efforts of Dr. Tom Catena, the sole doctor of a million patients in the war-torn Nuba Mountains of Sudan. Last June Tom Catena was recognized as Time Magazine's Top 100 Most Influential People. The film's executive producer is Maria Shriver.
Nominated films from this year's festival will be presented with awards at the 20th Annual Arpa International Film Festival Closing Night Awards Gala Banquet being held at the Loews Hollywood Hotel on Sunday, November 5. The star-studded evening will also recognize Academy Award-winning director Terry George, acclaimed actor Carl Weathers, Academy Award-winning screenwriter Alexander Dinelaris and late music icon Chris Cornell with special awards and tributes.
Feature Narrative Films 2017 Lineup
Click on any film title to read more and reserve your tickets.
APRICOT GROVES, directed by Pouria Heidary Oureh
DALIDA, directed by Lisa Azuelos
DEAD ON ARRIVAL, directed by Stephen E. Sepher
H.O.M.E., directed by Daniel Maldonado
KRASNY, directed by Nikolay Sarkisov
PINSKY, directed by Amanda Lundquist
THE LIBERATION OF SKOPJE, directed by Rade Serbedzija
Documentary Films 2017 Lineup
Click on any film title to read more and reserve your tickets.
ARRESTED (AGAIN), directed by Dan Goldes
ECHOES OF SURVIVAL, directed by Avo Kambourian
HELENA'S LAW, directed by Petra Nesvacilova
INTENT TO DESTROY: DEATH, DENIAL AND DEPICTION, directed by Joe Berlinger
LISTEN TO ME: UNTOLD STORIES BEYOND HATRED, directed by Gagik Ghazareh
THE HEART OF NUBA, directed by Kenneth A. Carlson
THE LOST CITY OF CECIL B. DEMILLE, directed by Peter Brosnan
Short Films 2017 Lineup
Click on any film title to read more and reserve your tickets.
72 GILO, directed by Catie Damon
BROTHERS, directed by Troy Elliott
CHAMPION, directed by David Safarian
CHILDREN OF WAR: A HUMAN RIGHTS ANTHOLOGY, omnibus
CITIZEN, directed by Robert Bracker
GIRL AT THE DOOR, directed by Joosung Song
JONAH, directed by Michael Maschina
LETTERS FROM ALCATRAZ, directed by Madeline Rozwat
MARIAM'S DAY OFF, directed by Arshak Amirbekyan
MONDAY, directed by Dinh Thai
MORRIS, directed by Nina Kotyantz
NATION DOWN, directed by Liam Hendrix Heath
ON SEEING THE 100% PERFECT GIRL, directed by Tae Hun An
SOLITARY, directed by Derek J. Pastuszek
THE ADMIRED, directed by Jacqueline Murphy
THE PASSENGER, directed by Hayk Matevosyan
THE WANDERER, directed by Daniel Tahmizian
WAKING A MONSTER, directed by Mirjam Clement
WHAT ANA KNEW, directed by Zoe Smurr
WHERE NOBODY CAN GO, directed by Joosung Song