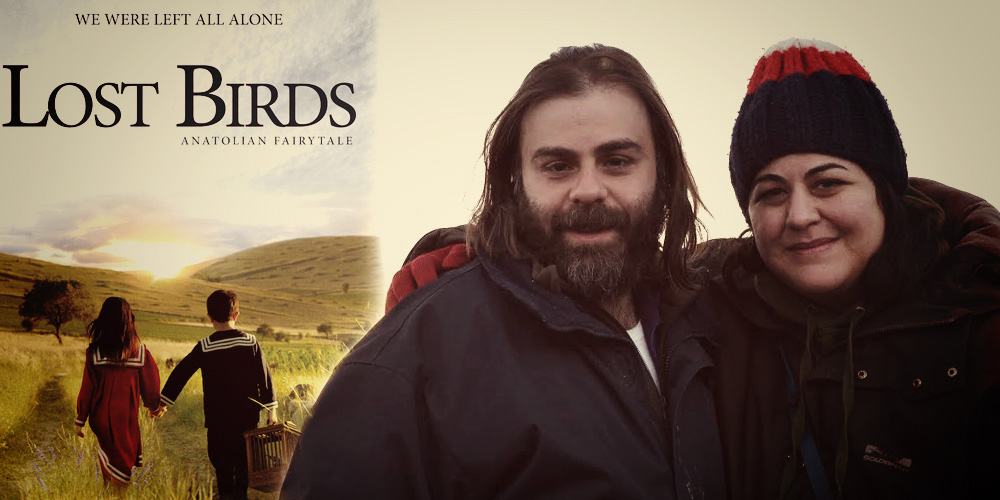 Arpa Film Festival 2015 interviews with film directors
Producing a film in Turkey about the Armenian genocide and realizing it on the big screen has been a difficult journey for the writer-director team, Aren Perdeci and Ela Alyamac, of Lost Birds. This courageous duo's film is the turning point for Turkish cinema – having received approval and a small amount of government-funding from the Ministry of Culture's Cinema Fund and further having the creative freedom to shoot the film in real Anatolian locations. Yet even with these commendable achievements, Perdeci and Alyamac struggle to secure international screenings with the Turkish film community working against their efforts.
Lost Birds is an Anatolian fairytale with themes of family and love amid the 1915 Armenian genocide. With Perdeci being a descendant of the Ottoman Armenians, and both filmmakers being born in Istanbul, they were determined to ensure that all of the actors in their film were of Ottoman Armenian descent. Lost Birds is a magnificent achievement for Alyamac and Perdeci, who devoted the past five years to creating the film and now are focused on screening it in the most prestigious film market, Hollywood. Next month, their dream will come true when Lost Birds premieres in Hollywood at the 18th Annual Arpa International Film Festival. Moreover, the Arpa Film Festival has nominated Alyamac and Perdeci for three category awards: Best Feature Film, Best Director, and Best Screenplay.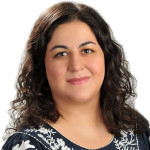 Ela Alyamac is a Turkish filmmaker. Alyamac studied film production and film studies at Chapman University, in California. She is a director and writer of a feature length romantic drama, Fairy Dust (2008). Her short films received numerous festival screenings in the United States, and her film, Everything, won a Best Short Film award at the 2001 Laguna Beach Film Festival.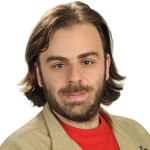 Aren Perdeci is of Armenian descent. He is a director, scriptwriter, producer, cinematographer, and editor. Perdeci has directed many short films and a variety of media projects such as: commercials, industrials, educational and music videos. His feature film, Wrong Time Travelers, was screened at many international film festivals and received honorable mention in the 2008 Accolade Global Film Competition.
Via email interviews, Alyamac and Perdeci responded to six questions posed by Sharon Swainson, writer for Arpa Film Festival.
Why did you choose to make your film?
ALYAMAC: Aren told me that he wanted to write a screenplay about two siblings left behind in 1915. I was intrigued because I liked the idea of telling the story from the eyes of a brother and sister. So our journey started by writing the screenplay together. We worked hard to realize this story and create it so that people would not just be watching a film, but instead experiencing a slice of life from a time gone by.
PERDECI: I am a direct descendent of the Ottoman Armenians. My father's side is Bursa Armenian and my mother's side is Konya Armenian. My great grandfather, Armenak Avakyan, was taken away from Konya in 1915, and he never returned. The topic of 1915 was never talked about in my home, and it was kept a secret. After we decided to write this screenplay, the first story my mother shared with me was the sad story of Armenak – and how the family moved to Istanbul, because they had to give up their beautiful house to the military to be used for the headquarters in Konya, and how because of this reason they survived. A special thing to know is that in the film we used Armenak's wedding photograph.
Name a moment during shooting that made you proud.
ALYAMAC: We are proud of every step of our journey, however there are two instances that are truly extraordinary. On the eighth shoot day, when we were scheduled to shoot the ghost village scene, something miraculous happened. In the story, when the children go down to the village they find out that they are left all alone. For this scene we needed a rainstorm and we had rented all the equipment to create and shoot it. For all prior shoot days it was sunny with blue skies. So the day before the shoot our experienced gaffer suggested we change the location of the storm scene, but we resisted shooting at the same location because it was important to the story.
The morning of the storm shoot, actual storm clouds were forming in the sky. Throughout the rehearsal runs the sky became increasingly darker. That is when we decided to stop rehearsing and shoot everything. The crew laughed at us thinking we were crazy, since the scene we were about to shoot required that the children walk in the village and a rainstorm would start. So we started to shoot. Aren was by the camera, and I was sitting by the monitor under the tent. Then at the exact spot, where we would have turned on the rain and wind machines, a twister came into the set. Everything started to fly up in the air, even the monitor tent and every loose object flew away. We were shooting the scene and crying at the same time.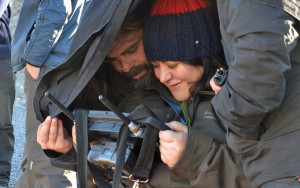 Not just me and Aren, but the entire crew. We had just witnessed a miracle of nature, something which never happens in that region during the summer time, and we managed to film it.
The second miracle was with our bird Bacik, which means kiss in Armenian. Bacik had twenty five stand-ins. In the scene when the children say farewell to him, Bacik actually kissed the little boy and flew away saying his own goodbye. None of the other birds flew perfectly like him, and we caught him on camera.
PERDECI: We are proud of every frame of this film.
Was there a moment that became a creative breakthrough while making your film?
PERDECI: We had one and one-half years of pre-production. We had gone to the locations many times and worked out all the details. Creatively we were ready, and we shot what we had planned.
During the creative process, was there a moment when you let go of certainties and just ran with it, allowing creativity to do its thing?
ALYAMAC: In the scenes with the children, especially when they were home alone. We just let everything go and made them feel free. This helped them to live in the moment.
Since an artist is truly never finished, is there anything that you would like to do differently or add to your film?
ALYAMAC: It's a never-ending process.
PERDECI: I think this has to do with time passing, maturing, experiencing and discovering more in life. The more you experience with life, the more you are able to grow and see the changes. So I think when the time comes that we feel like there were things we wanted to add, all that good energy, feelings, thoughts and creative thinking will go to the next film.
What does it mean to you to have your film selected by the Arpa International Film Festival?
ALYAMAC and PERDECI: We are very proud that we get to share our film with the Arpa International Film Festival audience.

Written by Sharon Swainson
Communications & Content Development
2015 Arpa International Film Festival