Awards & Jury Members
The Arpa IFF brings acclaimed international filmmakers and entertainment professionals, including producers, directors, writers, and agents to select the films that stand above the rest.
2017 Arpa IFF Awards
BEST SHORT FILM AWARD 
BEST DOCUMENTARY FILM AWARD (feature-length documentaries only)
BEST SCREENPLAY AWARD (feature narrative films only)
BEST DIRECTOR (feature narrative films only)
BEST FEATURE NARRATIVE FILM
CAREER ACHIEVEMENT AWARD 2017 Honoree: Oscar-winning screenwriter ALEXANDER DINELARIS (Birdman)
LIFETIME ACHIEVEMENT AWARD 2017 Honoree: actor CARL WEATHERS (Rocky, Predator, Happy Gilmore) 
LIFETIME LEGACY AWARD 2017 Honoree: Grammy award-winning musician, singer, and songwriter CHRIS CORNELL (in memoriam)
ARMIN T. WEGNER HUMANITARIAN AWARD 2017 Honoree: Oscar-winning director TERRY GEORGE (The Promise, The Shore, Hotel Rwanda, In the Name of the Father)
Armin T. Wegner Humanitarian Award
This special award was created by AFFMA following a proposal by Armin T. Wegner Society of USA.
The award is presented each year to a filmmaker whose film deals with subjugated peoples, ethnic cleansing, forced deportation, massacres and genocides. The motion picture must contribute to the fight for social conscience and human rights, a struggle to which Armin T. Wegner devoted his entire life.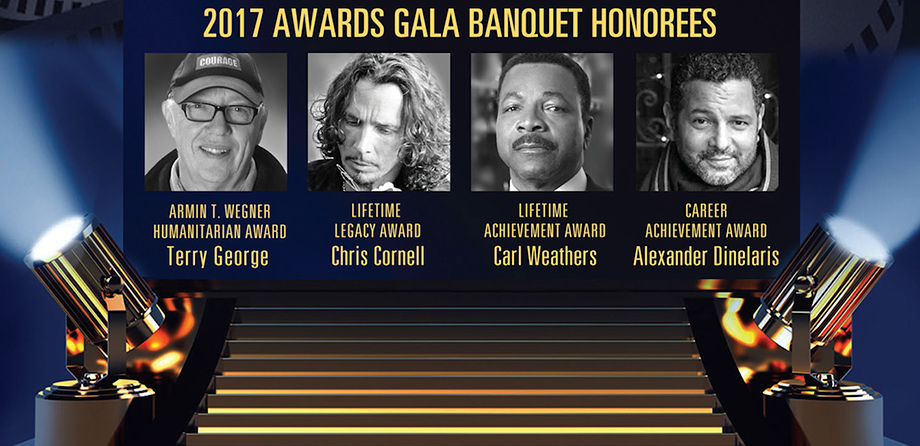 Read more about the 20th annual Arpa International Film Festival 2017 Honorees.