Festival Awards
The Arpa International Film festival (AIFF) brings acclaimed local and international filmmakers and entertainment professionals, including producers, directors, writers, and agents to select the films that stand above the rest.
Film Category Awards
BEST SHORT FILM AWARD 
BEST DOCUMENTARY FILM AWARD (feature-length documentaries only)
BEST SCREENPLAY AWARD (feature narrative films only)
BEST DIRECTOR (feature narrative films only)
BEST FEATURE NARRATIVE FILM
Honoree Awards
CAREER ACHIEVEMENT AWARD 2017 Honoree: Oscar-winning screenwriter ALEXANDER DINELARIS (Birdman)
LIFETIME ACHIEVEMENT AWARD 2017 Honoree: actor CARL WEATHERS (Rocky, Predator, Happy Gilmore) 
LIFETIME LEGACY AWARD 2017 Honoree: Grammy award-winning musician, singer, and songwriter CHRIS CORNELL (in memoriam)
ARMIN T. WEGNER HUMANITARIAN AWARD 2017 Honoree: Oscar-winning director TERRY GEORGE (The Promise, The Shore, Hotel Rwanda, In the Name of the Father)
Armin T. Wegner Humanitarian Award
This special award was created by AFFMA following a proposal by Armin T. Wegner Society of USA.
The award is presented each year to a filmmaker whose film deals with subjugated peoples, ethnic cleansing, forced deportation, massacres and genocides. The motion picture must contribute to the fight for social conscience and human rights, a struggle to which Armin T. Wegner devoted his entire life.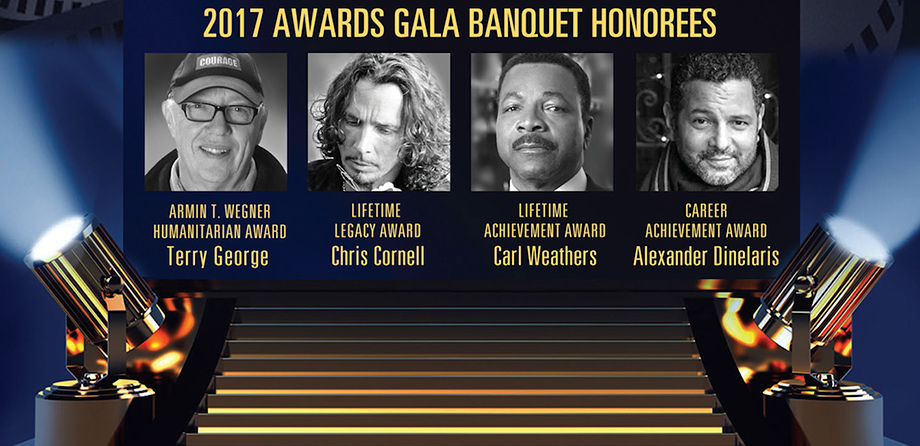 Read more about the 20th annual Arpa International Film Festival 2017 Honorees.
Festival Jury
Delving into creative exchanges, the jurors create an opening where the passionate intensity of these gifted filmmakers flourish. Each year we are fortunate to have jury members who have an increasing awareness and understanding of contemporary international cinema.
2018 Jury Members
TBA.
Previous Festival Judges
Our past international film festival judges include: Charles Agron, James Duke Mason, Felix Pire, Sev Ohanian, Sebastian Siegel, Howard Rosenman, Deborah Attoinese, Charles Gideon Davis, Max Howard, JD Larson, Stuart Manashil, Debra Balamos, Rob Bowman, Alan Cassidy, Alan Cummings, Kirby Dick, Heather Jack, Corey Kaplan, Jeffrey Meadows, Carol Mechanic, Nina Menkes, Susan Kay Moses, Paul Peterson, David Rosenbloom, Hamlet Sarkissian, Steven Small, Geoff Stier, Katherine Tomlinson, Ara Keshishian, Jeff Speich, Owen Ward, Ken Sherman, Randi Wilens, Milton B. Suchin, Essy Niknejad, Stacey Margetts, Ray Rhodes, Scott Davis, Frank Guttler, Geoff Yim, Valerie McCaffrey, Stuart Sender, Vatche Mangassarian, Stuart Manashil, and Ken Davitian.