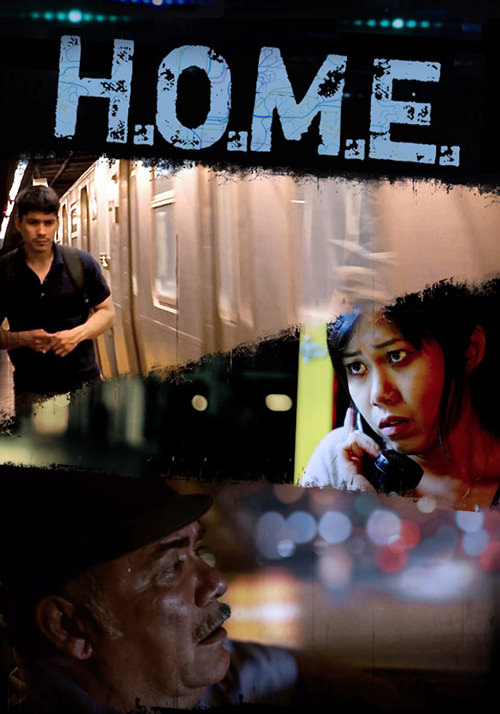 Saturday, November 4, 2017
6:15 PM – 7:45 PM
STEVEN SPIELBERG Theatre, Egyptian
Feature Film Presentation
~~~~~~~


RESERVE YOUR TICKETS NOW
Please note, Arpa IFF organizers reserve the right to make any necessary changes in scheduling.
H.O.M.E.
Drama
73 min (USA, 2016)
2017 ARPA IFF NOMINEE for Best Screenplay, Best Director and Best Feature Film
Director: Daniel Maldonado
Writers: Hector Carosso & Daniel Maldonado
Producers: Darren Dean, Ingrid Matias, Vanessa Verduga & Daniel Maldonado
Cast: Jeremy Ray Valdez, Jesús Ochoa, Angela Lin & Carlo Alban
A "love letter" to New York City through its subways & enclaves, H.O.M.E. is a film woven of two stories. One of a missing young man with Asperger's Syndrome who seeks refuge in the underground labyrinth of NYC. The other follows a gambling Ecuadorian Livery driver & a Chinese woman desperate to get home to her sick child. Along each of their journeys through the urban landscape, they discover the deeper understanding of communication & their intimate connections despite their barriers. H.O.M.E. is an intimate & lyrical, exploration of urban alienation & meaningful encounters through the lens of a "disconnected" city in motion.
Notable screenings, awards and mentions:
2017 Nominee- Cinema Tropical Awards- Best U.S. Latino Film
2016 Winner- Queens World Film Festival- Best Narrative Feature Award
2016 Winner- Cine Las Americas International Film Festival- Audience Award Narrative Feature
2016 Winner- Harlem International Film Festival- New York Showcase Award