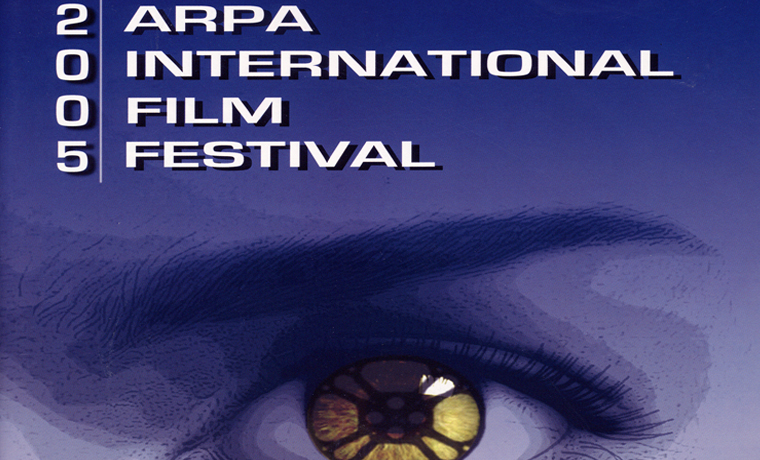 Distinguished Films and Winners 2005
Opening Night Feature Film 2005
The Cultural Department of French Consulate in Los Angeles graciously facilitated the participation of One Dollar Curry (2004) in the Arpa International Film Festival. This 90m charming comedy was written and directed by Vijay Singh. It was produced by Tessalit Productions and Silhou-ette Films inIndia,UK and France. Arpa Int'l Film Festival proudly screened it as the Opening Night Feature Film. PLOT: Nishan, a young Sikh, reaches Paris in search of political refuge. He has lost everything he possessed in his country, except his sense of humor and his imagination. Savy and street-smart Nishan opens a kitchen on wheels called "One Dollar Curry" before proclaiming himself to be The Maharaja of Indian Cuisine. When a love triangle forms between Nishan, his Indian fiancée Yamini, and his French love Nathalie, cinematic and stylistic innovations shape "One Dollar Curry" into an effervescent tale of immigrant ingenuity and Parisian romance. Starring Vikram Chatwal, Gabriella Wright, Smriti Mishra and Trevor A. Stephens.
Opening Night Documentary Film 2005
Khachaturian (2003) is an award winning documentary on Soviet Armenian composer Aram Khachaturian (1903-1978). Produced and directed by Peter Rosen, narrated by Eric Bogosian, "Khachaturian" is an account of a talented idealist who was at first caught up in the excitement and potential of the Communist revolution but found himself labeled a bourgeois formalist with the rise of Stalin. As soon as Kremlin detected Western elements and American flavor in his 'contaminated' music, Khachaturian was officially denounced and his music banned. The fate of his peers Dmitri Shostakovich and Sergei Prokofiev was not any different than his. Dora Serviarian-Kuhn, an accomplished concert pianist and her husband Robert Kuhn were the executive producers. The 83 min. documentary was written by Solomon Volkov and Bill van Horn. The Film Committee, absolutely thrilled with the film, honored the film, apart from the decision of the independent jury, as the festival's Opening Night Documentary Film.
Nominees and Winners – Feature Films and Short Films
Call Waiting 86m (USA)
Jodi Binstock (D); Dori Fram (W); Dan Bucatinsky (P)
NOMINATED: BEST FEATURE
WINNER: BEST SCREENPLAY, AUDIENCE AWARD
Love and Suicide 120m (USA)
Rene Gabri (D/W/P); Richard Gabri (P); De-nise Bedrosian(P), Cristina Rodriguez(P)
NOMINATED: BEST FEATURE, DIRECTOR, SCREENPLAY
One Dollar Curry 90m (India/UK/France)
Vijay Singh (D/W); Tessalit Productions (P); Silhouette Films (P)
NOMINATED: BEST FEATURE, EST DIRECTOR, SCREENPLAY
Unwanted Woman 103m (Iran)
Tahmineh Milani (D/W); Mohammad Nikbin (P)
NOMINATED: BEST SCREENPLAY
WINNER: BEST FEATURE FILM, BEST DIRECTOR
2 + 1 26m (USA/France)
Philippe Safir (D/W); Fabrice Lorenceau (P)
NOMINATED: BEST SHORT FILM
29 Inches 22m (Brazil/USA)
Bernard Attal (D/W); Muriel Guepin (P)
NOMINATED: BEST SHORT FILM
Broken 6m (USA)
Danica McKellar (D/W/P); Timilee Romolini/Morning Starlight (P)
NOMINATED: BEST SHORT FILM
Silent Warriors (Leise Krieger) 29m (Germany)
Alexander Dierbach (D/W/P)
WINNER: BEST SHORT FILM
Smart Card 15m (USA)
James Oxford (D/P); Joseph Anaya (W)
NOMINATED: BEST SHORT FILM
Tahara 17m (USA)
Sara Rashad (D/W/P)
NOMINATED: BEST SHORT FILM
Nominees and Winners – Animation Films and Documentary Films
Ga Moorch Ga Hooys 5m (USA)
Sevag Vrej (D/W/P);Armen Mirzaian (W/P)
NOMINATED: BEST ANIMATION FILM
Handshake 5m (USA)
Patrick Smith (D/P)
NOMINATED: BEST ANIMATION FILM
The Relic 6m (USA)
Narineh Mirzaeian (D/P); Sven Neuman (D/P)
NOMINATED: BEST ANIMATION FILM
Totem Pole 5m (USA)
Will Drinker (D/W/P)
NOMINATED: BEST ANIMATION FILM
What Are You Anyways? 11m (USA)
Jeff Chiba Stearns (D/W); Ruth Vincent (P)
WINNER: BEST ANIMATION FILM
Armenians of Lebanon 85m (Lebanon/Syria/Armenia/Turkey)
Carmen Labaki (D/P); Nidal Ayoub (W)
WINNER: BEST DOCUMENTARY FILM
Between Two Worlds 53m (USA)
Aaron Weisblatt (D/P)
NOMINATED: BEST DOCUMENTARY FILM
The Drugging of Our Children 89m (USA)
Gary Null (D/W/P); Manette Loudon (P)
NOMINATED: BEST DOCUMENTARY FILM
Khachaturian 83m (USA)
Peter Rosen (D/P); Solomon Volkov (W); Bill van Horn (W)
NOMINATED: BEST DOCUMENTARY FILM
My Son Shall Be Armenian 90m (Canada)
Hagop Goudsouzian (D/W); Georgette Duchaîne (W); Yves Bisaillon (P)
NOMINATED: BEST DOCUMENTARY FILM
Armin T. Wegner Humanitarian Award 2005
When It's All Over I'll Still Be Indian 30m (USA)
Joanelle Romero (D/W/P); Teddy Parker (P)
WINNER: ARMIN T. WEGNER AWARD