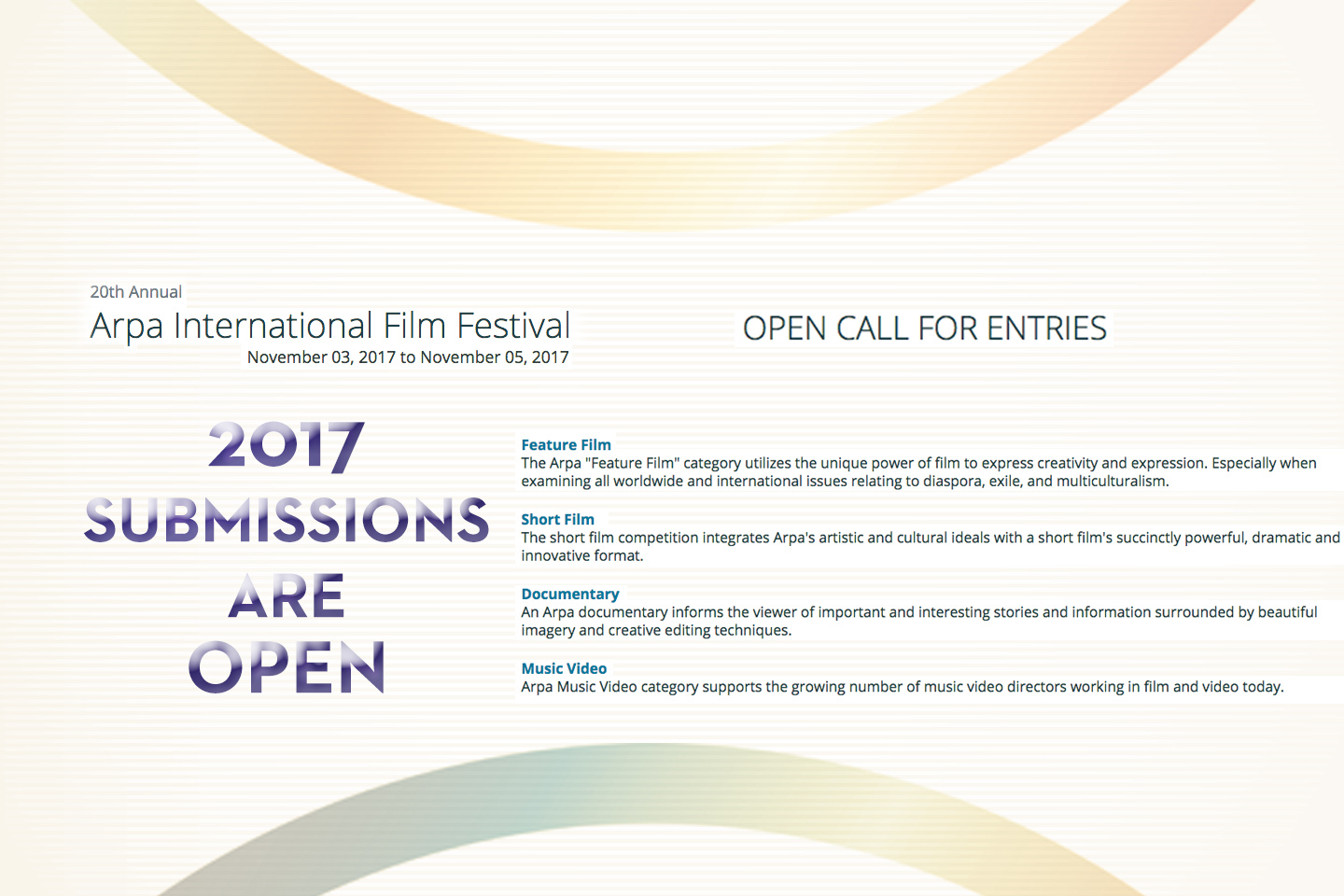 Arpa Film Festival Submissions
Another year means another wonderful film festival, and 2017 is promising to be a great one! Annual Arpa International Film Festival (AIFF) is at the epicenter of Hollywood film industry, and garners the attention of executives, industry professionals, and film consumers alike. We are extremely eager to see all the new films that come our way and we urge you to submit your films soon and benefit from the early deadline!
General Festival Rules
Please read carefully the following Arpa International Film Festival (AIFF) submission guidelines and disclaimers:
AIFF accepts films from all countries and in all languages worldwide.
If not in English, the film submission must have English subtitles.
It is preferred that film has not been gone through formal distribution channels, and that is not older than two years.
Please make sure to include your Withoutabox tracking number with your submission.
Once your submission has been accepted, you will need to provide: basic production info (director, screenwriter, producer, cast), synopsis, high-res still images (1024 x 768 px minimum), official trailer open for public viewing (YouTube or Vimeo link only), and a film screening copy (DCP file on USB stick or BluRay disc preferred).
Film supplier is responsible for the costs of shipment to the Festival. Note for DCP copies: AIFF is responsible for outbound shipping of DCP film screening copies only, and we keep BluRay and DVD discs in our archive. To avoid additional shipping costs – especially for international filmmakers – we strongly advise you to send us your DCP feature length films on 2.5″ External Drives (much cheaper option than shipping a CRU Drive in a heavy duty Pelican suitcase), and your DCP short films on USB 3.0 sticks. You are also welcome to pick up your screening copy during the Festival at the Egyptian Theatre (November 3-5, 2017) in Hollywood.
AIFF reserves the right to retain a copy of the film for use with the festival and all other promotional events affiliated with the festival.
AIFF cannot be held liable for print/video materials, which may be lost or damaged.
Submission Deadlines
SUBMISSIONS FOR 2017 ARE NOW

OPEN

!
Our programmers will be at work in the selection process, trying to create a program that best fits with the standard and quality AIFF has set. Check back in for updates with programming and ticketing.
EARLY DEADLINE April 30, 2017
REGULAR DEADLINE June 30, 2017
LATE DEADLINE July 10, 2017
EXTENDED DEADLINE July 20, 2017
How to Submit
Filmmakers can submit their films either online using official Arpa Film Festival WithoutaBox page, or by mail/email.
Submit to Arpa Film Festival Online (Withoutabox)
We encourage our filmmakers to submit their films online using our official Arpa Film Festival WithoutaBox page because you will successfully submit your entry form, screener & fee, and save money at the same time. Our programing team looks forward to watching all the films we will be receiving this year! To submit your film, or to learn more about early-bird incentives and submission deadlines, please visit our official Withoutabox submission page. If you for any reason can not use Withoutabox service, you can submit by mail or email (read below).
Submit to Arpa Film Festival by Mail or Email
Please download our 2017 Official Entry Form. This is a fillable PDF document, and both Adobe Acrobat Reader (Win & Mac) and Preview (Mac) will let you edit/fill your info, and save your changes easily.
You have 2 options for sending completed entry form and your film screener to our team:
1) PRINT YOUR COMPLETED ENTRY FORM, AND MAIL IT WITH YOUR SCREENER DVD COPY TO:
Arpa International Film Festival
c/o Print Traffic Team
2919 Maxwell Street
Los Angeles, CA 90027 USA
(NO HAND DELIVERIES TO THE ABOVE ADDRESS)
2) COMPLETE THIS PDF ENTRY FORM, SAVE YOUR CHANGES, AND E-MAIL IT BACK ALONG WITH YOUR SECURE SCREENER ONLINE LINK & PASSWORD TO:
Email: arpafilmfestival@gmail.com   Subject: FILM SUBMISSION
Contact us anytime if you have any questions in regards to submitting your film.